Violin, Viola, Piano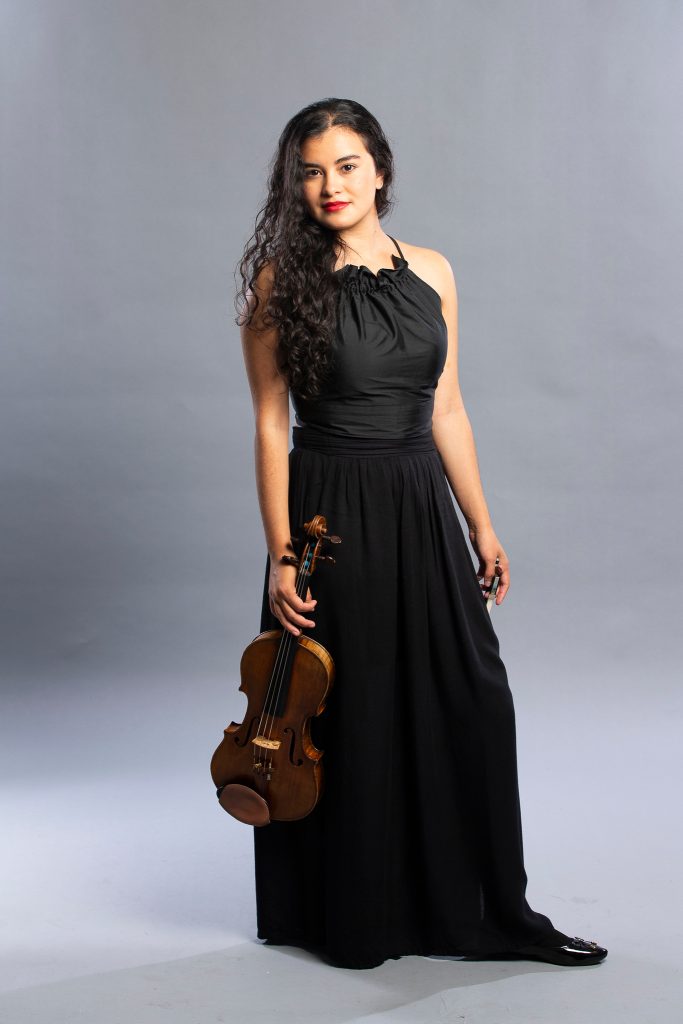 Currently based in Boston, MA, Viridiana began her musical studies from an early age, participating in numerous Mexican youth orchestras. In 2006, 2007, and 2009, she took part in the Mexican Youth Symphony Orchestra (OSIM), joining them for tours throughout the Mexican Republic.
In the summer of 2016, she was selected as a member of the Estanislao Mejía Symphony Orchestra from the University of Music-UNAM to participate in the Young Euro Classic Festival held in Berlin, Germany. There, she performed concerts in the Nezahualcóyotl Hall, "Biblioteca México," and in Berlin's Konzerthaus. These concerts were conducted by Sergio Cárdenas. During this time in 2016, Viridiana also joined as a member of the Symphony of Michoacán (OSIDEM) from 2016 to 2017.

While living in Morelia, México, Viridiana joined as a member of the Chamber Orchestra of Michoacan from 2016-2021 (usually as leader of the second violins). She was a founding member and Associated Concertmaster of the Chamber Orchestra of
Tzintzuni from 2020-2021.
During her undergraduate degree at the Conservatorio de las Rosas, under the tutelage of Julián Martínez and Gellya Dubrova, she performed as a soloist with the Chamber Orchestra of the National Conservatory, Chamber Orchestra of the University
of Michoacán (OCUM), San Luis Potosí Symphony Orchestra, Orchestra of the Conservatorio de las Rosas, and the Orquesta de Cámara del Tzintzuni, performing in halls such as the Manuel M. Ponce Hall (Palacio de Bellas Artes), Teatro de la Paz, Centro Cultural Universitario UMSNH, and in the Niños Cantores Hall in México.

Viridiana has participated in numerous international music festivals such as the Young Euro Classic (Germany), Portillo International Music Festival (Chile), V International Music Festival of Esmeraldas (Ecuador), Sinfonietta Music Festival, and with the Azteca National Orchestra (Mexico).
Viridiana was a fellow of the Orchestra of the Americas / OAcademy in 2021, joining Nikki Chooi's violin studio class. In this period, she took part in the recording of "Codex Mexica," the multi-sensory retelling of a five-hundred-year old tale, recordingwith cellist Yo-Yo Ma, composer Cris MarYan, violinist Johnny Gandelsman, and OAcademy fellows from 20+ countries in the Americas. Viridiana has taken master classes with renowned musicians as Elena Urioste, Cho-Liang Lin, Jonathan Crow, Timothy Chooi, American String Quartet, Marco Fusi,
Eldbjørg Hemsing, Sarita Kwok, Karla Donehew Perez, among others.
As a lover of music teaching, she has more than 7 years of experience. Focused primarily on kids and young people, Viridiana has been teaching bilingual music programs (Spanish and English) in the Boston area and in México, holding online, in-person, and hybrid lessons with groups and private students.
Recently, Viridiana joined the Richmond Symphony in Richmond, Virginia for their performances of "Romeo & Juliet" with pianist Alexandra Dariescu under the musical direction of conductor Valentina Peleggi for their performances in November 2022. Viridiana is a member of the Eureka Ensemble and she is pursuing her Master's Degree at Longy School of Music of Bard College under the tutelage of Gabriela Diaz.