Participation in an ensemble puts skills learned in private lessons to practical use. (plus, it's REALLY fun) In our ensemble program students are matched with other musicians of a similar age, proficiency and interest. The musicians meet weekly; to prepare for live performances at a variety of local venues. Each group's identity evolves through student and teacher input. Current groups are rock, pop and punk based.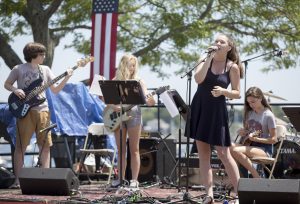 During the weekly jam sessions,  students work on the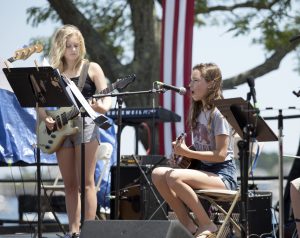 fundamentals of how to follow a chart, stage presence, dynamics, solo ideas and how to work as a group.
Each student plays a crucial role in the band so it is very important that members commit to and attend each practice. Part of being in a band is having others relying on you to play your part.
Thank you so much for the amazing opportunity and experience to perform with a band in front of an audience! James had a great time, and has stated numerous times, how meaningful it is to be part of a band. While he loves playing his guitar alone, he is so excited to make music with other musicians. We feel so fortunate to have found a music school that looks for opportunities to offer such fantastic experiences.

~ Jackie S. 
Adam Saylor, Lead Teacher, loves to share his knowledge and experience. Adam has played in bands for over 16 years in groups playing various styles of music, ranging from funk, jazz and classical to pop, rock and blues. He has made lifelong friends and has had the privilege to play with artists that were his inspiration.
Jeff LaFontant, Ensemble Instructor, enjoys working with bands to develop their own unique sound. His varied experience in bands and sessions has given him a great perspective from which to lead.
Ensemble groups meet for an hour or 90 minutes weekly.
A live public performance will take place at a local venue at least once each session.