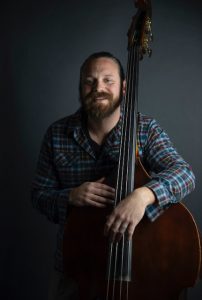 Bass, Guitar, Piano, Ukulele, Banjo, Upright Bass, and Ensembles
Recipient of an Unsung Hero Award from MPS SEPAC

Adam has been a private music instructor for over 15 years, teaching music genres ranging from funk, jazz and classical to pop, rock and blues. He attended Berklee College
of Music for his BA in Professional Music. While at Berklee, Adam studied with Matt Garrison (Herbie Hancock), John Funkhouser, Dave Buda, Dan Morris (Buddy Guy) and Lenny Stallworth (Macy O'Parker). Adam also had the privilege of studying jazz harmony & solo techniques with
the late, Charles Banacas.
Adam's unique curriculum varies by age and experience levels and includes reading, harmony, ear training and stretching routines. He has helped students prepare for
auditions at various music institutions and to successfully pursue music as a career. In support of the regular recitals, Adam collaborates with the Marblehead School of Music
founders and students to create ensembles/groups which perform at the live showcases. Together they learn the theory behind the songs, fine-tune the drum grooves and
bass lines, and create parts for guitar, piano, horns and strings. The school provides sheet music for each recital so students learn how to read through lead sheets and cord
charts while performing.
Adam enjoys performing music live and has shared the stage with memorable musicians such as Rich Robinson (Black Crowes), J-Live, Adam Deitch Project, Fabolous, Gary
Charone (Extreme), El-P, Sage Francis, Solillaquists of Sound, Lee Scratch Perry, Yellow Man, Barrington Levy, Mighty Mystic, and Giant Panda Guerilla Dub Squad. Adam
continues to gig regularly with his roots/rock/reggae band, Soul Rebel Project and with 3Vibe, his funk/jazz/fusion group including members, John Funkhouser (Professor,
Berklee College of Music) and drummer, James Murphy (Blue Man Group).