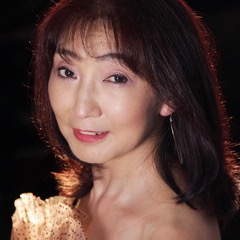 Voice and Piano
Akiko Aoki is a professional singer, voice instructor and Japanese teacher. Known for her jazzy phrasing and pitch control, she is an experienced and solid vocalist.
She received vocal training in various chorus groups in her elementary,  junior and senior high years in Japan. It was during her youth that she said to herself, "I could spend all day singing without ever getting bored".  At age of 16, she won the opportunity to perform on the TV shows  "NHK Nodo-Jiman" and "Star-Tanjo.
At age of 19 Akiko would begin her professional singing career  at Jazz clubs and lounges in Sendai and Yokohama Japan. Booked almost daily, she sang around six nights a week in various styles such  as American pop, Jazz, and Japanese pop.
Akiko attended Berklee College of Music on a scholarship in 1986. During that time, she took voice lessons with some great instructors such as Jan Shapiro, Maggie Scott and Anne Packham and piano lessons with Yuki Arimasa and Bob Winter.
After graduating Berklee, she performed at many jazz clubs, hotels, and  jazz festivals in local cities and japan. She also taught at several private music schools such as Yokohama Contemporary School of Music and Mate School of Music. She also released her first CD in 1996, "Alfie" with the Yuki Arimasa piano trio (Thomas Hebb on Bass and Marc Gratama on Drums.) The CD received high evaluation by the Japanese jazz magazine "Jazz life".
After her marriage, she settled in New England where she continued to perform in jazz venues, restaurants and lounges in the Boston and North shore area. She has been teaching voice privately to limitless ages for over 30 years. She also recently trained and completed the third level of  Somatic Voice Work. So, Akiko is not only a trustworthy instructor from her independent experience and training, she is well educated in the pedagogical aspect of the voice.
She looks forward to working with students from toddler to senior age. With no concern of background or prior experience. She enjoys providing an exploratory space for her students to learn. As a teacher she believes it is her mission to find each student's beauty and let the students actualize it from within so that each person will blossom into their unique selves.