Voice, Piano, Guitar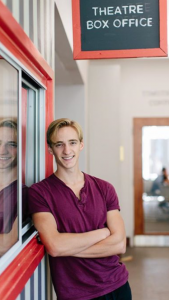 Daniel is a recent graduate of Gordon College where he studied classical music and Bel Canto vocal performance. He writes and performs songs from pop, jazz, choral, instrumental, and a Capella genres.
Ever since he was born into a family of seven singers and performers, music and theatre have been his passion, which led him to discovering a special love for musical theatre in high school. More recently, he has performed leading and ensemble roles in Gilbert and Sullivan's The Mikado, Urinetown, and numerous straight plays. He has also sung with his school's College and Men's choirs and The Scotsmen a Capella group, where he also served as conductor. Daniel also performs and teaches improv and sketch comedy; he was part of Gordon's improv performance troupe The Sweaty Toothed Madmen for three years, during which he provided and received professional workshops for comedic performance.
Daniel's personal artistic mission is to make music that challenges and engages listeners, and to bring his diverse training into the expressiveness of his performance. He wants to work with others to develop their Voice and put their heart and unique personality into their own music.