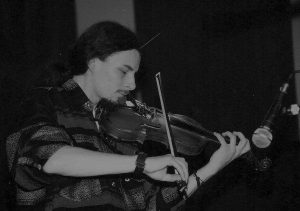 Jozef is best known as a contemporary jazz violinist, recording artist and educator.
In the late 1980's music scene around the world had so much to offer, from pop, rock to jazz. This is the time when Jozef realized music was his passion. Coming from musicians family with all the respect and appreciation to his classical teachers, Jozef was looking for something different, something more modern.That difference has developed in the late 1990's where he looked into music from a different angle, trying to catch every aspect of harmony, composition, scales and all those loud and pleasant sounds coming out of those speakers. Jozef would sit all day at home just listening to records, from Madonna to Guns N Roses to Dream Theater to John Coltrane and Miles Davis. Sometimes he still does that…..
In 1998, his talent was recognized where he received a scholarship and was accepted at one of the worlds prestigious music schools – Berklee College of Music, in Boston, MA. Entered Berklee in Spring of 2000 and had an incredible opportunity to learn and perform with the worlds best musicians. Didier Lockwood, Victor Bailey, Billy Cobham, Nigel Kennedy, Wynton Marsalis, Eugene Friesen, James Montgomery, Vinnie Moore, Joey De Francesco; are some of the artist Jozef has shared the stage with. Jozef have had performed in many European countries and US States.
Since the early 2000's, he is also actively teaching in Boston metro area, and is also an active clinician.